Your experienced Pimcore partner: Pimcore integration with opre IT
Learn about the benefits of Pimcore and how we, as your Pimcore partner, can guide you on your PIM journey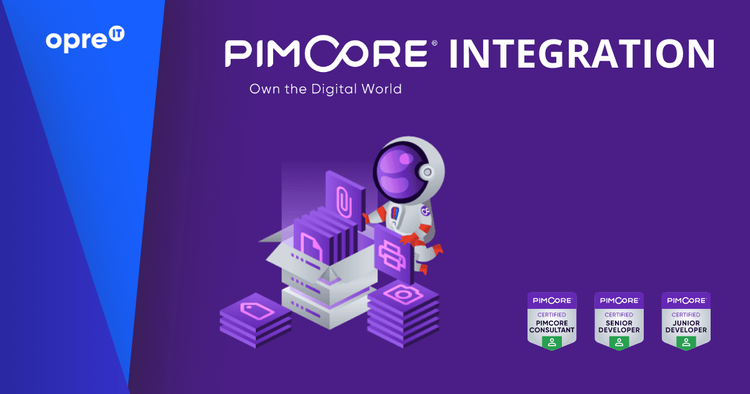 Are you looking for a product information management system that is right for you, or have you heard the name Pimcore more than once and now want to know why Pimcore is right for you?
As an experienced Pimcore integration partner, we know the sheer endless possibilities of the open source platform and will gladly accompany you in your project on the way to a cleanly prepared and integrated PIM. We help companies like yours get the most out of the powerful open source platform for product information management, digital asset management and experience management. To do this, we provide customized solutions to efficiently manage your product data, digital assets and content, and create a seamless customer experience across multiple channels.
But back to the beginning. Why is Pimcore so popular?
We've summarized the benefits of Pimcore here:
All-in-one solution: Pimcore offers an integrated platform that combines PIM, DAM, and CMS/UX capabilities. This allows companies to centrally manage their product data, digital assets and content.
Flexibility: Pimcore is known for its high adaptability. The platform allows flexible modeling of data structures and workflows to meet the unique requirements of different industries.
Open source: Pimcore is open source software, which means that the source code is freely available. This allows companies to customize and extend the platform to meet their specific needs.
Scalability: Pimcore can scale for small businesses as well as large organizations with extensive amounts of product data. The platform is capable of efficiently managing a large number of products, digital assets and content.
Multichannel Capability: Pimcore supports publishing product data and content to multiple channels including websites, mobile apps, e-commerce platforms, social media and more. This allows companies to present their content in multiple ways and reach their target audience.
Data consolidation: Pimcore enables the consolidation of product data from multiple sources and systems into one central location. This allows companies to efficiently manage, update and synchronize their data.
Ease of use: Pimcore provides a user-friendly interface that enables non-technical users to manage products, assets and content. The intuitive user interface and drag-and-drop functionality make it easy to work with the platform.
Community and Support: Pimcore has an active community of developers and users who support each other and share their knowledge. There is also professional support from the Pimcore team and partner companies, such as Opre IT GmbH to help companies like yours implement and maintain the platform.
You can learn more about the different editions here.
Who is Pimcore suitable for?
Both retailers and manufacturers can benefit from a PIM system like Pimcore, but the specific benefits can vary depending on your role. Here are the benefits of Pimcore for both parties:
Benefits for Dealers:
Centralized data management: with a PIM system like Pimcore, retailers can manage their product information in one centralized location. This enables efficient updating, monitoring, and delivery of product information to multiple sales channels such as e-commerce websites, marketplaces, catalogs, etc.
Consistent product information: Pimcore enables retailers to ensure consistent and accurate product information across all sales channels. This reduces misinformation, improves customer communication and helps create a trusted brand image.
Efficient product data management: Dealers can efficiently capture, structure, and edit product data. This simplifies the management of product features, variants, relationships and attributes, which in turn leads to improved organization and faster time-to-market for new products.
Better product presentation: With Pimcore, retailers can create rich and engaging product presentations. They can manage media content such as images, videos, instructions, etc. and leverage it across multiple channels to engage customers and drive sales.
Effective collaboration: Pimcore enables dealers to involve different team members and departments in the product information creation process. Collaboration is enhanced as all stakeholders can access the same data and track changes.
Benefits for manufacturers:
Consistent brand representation: Pimcore enables manufacturers to ensure consistent brand representation across different sales channels. They can provide accurate and consistent product information, resulting in a professional brand image and building customer trust.
Efficient product data management: Manufacturers can efficiently manage complex product data, especially if they have a large number of products, variants and features. A PIM system like Pimcore makes it easier to organize, classify and manage this information, increasing efficiency and accuracy.
Easy product updates: With Pimcore, manufacturers can manage product changes or updates quickly and easily. New features, specifications, or pricing adjustments can be centralized and automatically pushed to all sales channels, saving time and reducing errors.
Improved trade relations: By using a PIM system like Pimcore, manufacturers can improve their collaboration with their dealers. They can provide dealers with accurate and comprehensive product information needed to smoothly process orders and sales. This leads to a stronger partnership and efficient exchange of data and information between manufacturers and dealers.
Here's how to successfully integrate Pimcore.
For all its benefits, implementing a PIM system is not trivial and requires very good preparation and planning.
To avoid problems when integrating a PIM system like Pimcore, there are some best practices you should follow. Here are some important tips:
Planning and goal setting: establish clear goals and requirements for the PIM system integration. Identify the specific problems and challenges you want to solve and define clear metrics for success.
Thorough analysis of existing systems: Examine your existing systems and processes to understand how the PIM system can be integrated into your existing IT landscape. Identify possible dependencies and integration interfaces.
Selecting a suitable PIM system: If you have not already decided on Pimcore, conduct a thorough evaluation of PIM systems to select the one that best fits your requirements. Consider aspects such as flexibility, scalability, ease of use and integration options.
Involve all relevant stakeholders: Ensure that all relevant departments and stakeholders are involved in the integration process. This includes, for example, marketing, sales, the IT team and possibly external service providers.
Data cleansing and standardization: Before integrating data into the PIM system, perform comprehensive data cleansing and standardization. Remove duplicate entries, correct errors, and ensure your data is consistent and complete.
Clear data accountability: establish clear responsibilities for data maintenance and updates. Define who is responsible for what data and what the data update processes should be.
Training and training materials: Ensure that your employees are fully informed and trained about the PIM system. Create training materials and provide training to ensure that your employees can use the system effectively.
Gradual implementation: carry out the integration step by step and test the functionality and integration of the PIM system in small pilot projects before rolling it out to the entire company.
Continuous monitoring and optimization: continuously monitor the performance of the PIM system and optimize it as needed. Consider user feedback and make adjustments to ensure the system is meeting requirements.
Partner with an experienced vendor like opre IT: Leverage vendor support offerings and the experience of proven integration partners as early as possible. We'll help you select the right PIM system, ensure a smooth integration, and help you overcome any issues or challenges during the implementation process. With Opre IT, you minimize the risk of integration issues and get your project to success faster.
By following these best practices, you can avoid potential problems when integrating a PIM system like Pimcore as a vendor or manufacturer. Careful planning, thorough analysis, clear goal setting, staff training and collaboration with experienced partners are critical factors to ensure a successful integration.
Let's get started.
As a Pimcore integration partner, we are part of a network of professionals and companies that share their experience and best practices. Together with the broad Pimcore community, we are well equipped to provide you with world-class assistance and ongoing support. Dive into the world of Pimcore and let us show you how our integration expertise can take your business to the next level. Together, we'll create a customized solution to manage your products and content and delight your customers. Contact us today and start your Pimcore journey with us as your trusted integration partner.